Message Posted 12-31-12
from: Pat Works

Air Trash Receives Certificate Of Merit Award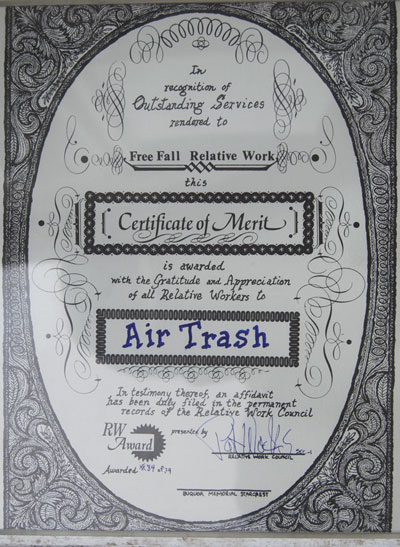 I am proud to announce Air Trash was Awarded RW Council's Certificate of Merit Award, only the 34th such award granted since it's inception in 1972. A high honor, well earned.
The purpose of Freefall Relative Work Certificate of Merit award is, "to recognize and express appreciation to individuals who actively promoted relative work so that it would grow internationally." Congratulations to Air Trash for this significant achievement!
Pat Works



Info and History:
RW Council's Certificate of Merit Awards
"In recognition of Outstanding Services rendered to Freefall Relative Work, this Certificate of Merit is awarded with the Gratitude and Appreciation of all Relative Workers to...AIR TRASH
In 1972, RWunderground issued the first Certificates of Merit. This special award was conceived of to recognize and express appreciation to individuals who actively promoted relative work so that it would grow internationally.
By RWunderground's last issue in 1976, 33 individuals had been singled out for the award. Nominations were submitted by relative workers themselves.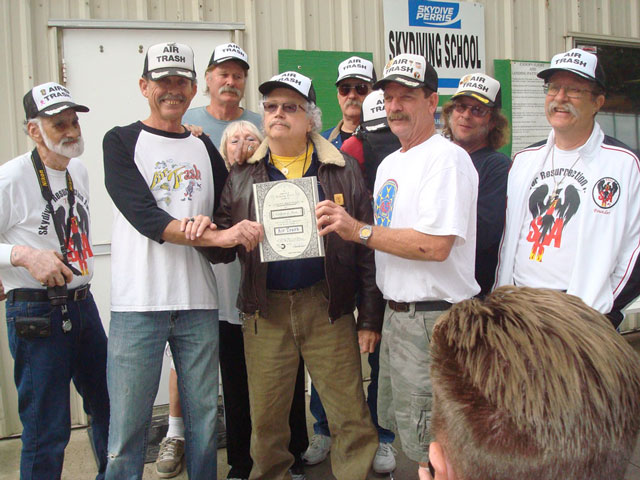 Former recipients of the RW Council's Certificate of Merit:


1972
Lowell Bachman (Para-Gear, Chicago); Chuck Embury (Parachutes, Inc., Orange Mass.); Joe Garcia (A-1 Unlimited, Calif.); John Higgins (The Chute Shop, Flemington, N.J.), all for their contributions of equipment and cash which permitted the national championship team that year, Jerry Bird's All-Stars, to attend the World Meet and turn the rest of the world on to large-star and sequential relative work.
Skratch Garrison, chief judge of the first national championships for 10-man competition and author of the first national rules governing 10-man; Bill Newell, founder of the Bob Buquor Memorial StarCrest, Ted Webster, organizer of some of the first major relative work competitions and an RW philanthropist, and Dan Poynter, then Northeast conference director and editor of The Spotter.
In addition, a special award was made to Jonathan Livingston Seagull and sent to author Richard Bach with a letter describing how Jonathan's thoughts on flying and excelling have inspired freefall relative workers.


1973
Members of the Jerry Bird's "All-Stars" 10-man team which enthusiastically promoted relative work to competitors at the 1972 World Meet, with wide acclaim. For many, the All-Stars demo jumps, including 10-man star to line to two 5-mans, or a star to snowflake with the outer five tracking away, was their first glimpse at the new phenomenon called "large-star relative work." Team members included:
Jerry Bird
Chuck Wickliffe
Ron Haun
Bill Stage
Rich Piccirilli
Bob Westover
Tom Phillips
Jim Fogelman
Sam Alexander


J.R. (Rod) Murphy, of South Africa, and Eilif Ness, of Norway, both members of the CIP relative work subcommittee of the FAI, and instrumental in developing and organizing 4-man and 10-man competition on the international level. Bob McDermott, U.S. Army Parachute Team, chief judge of the 1973 U.S.A. National Championships, and one of the host officials at the World Cup of Relative Work in Fort Bragg, N.C. James F. (Curt) Curtis, active competitor and long-time member of U.S.P.A.'s Board of Directors, who helped push relative work competition to prominence at the national and international level.


1974-75
Jerry Bird, roving ambassador for relative work, the only individual to receive the award twice. As captain of three national champion teams ("All-Stars" - 1972, "Columbine Turkey Farm" - 1973, "Wings of Orange" - 1974) he has done much to influence the popularity of relative work wherever he goes. He has organized large-star loads, SCR loads, and training sessions for groups of relative workers in other countries, including drop zones visited after his participation in international meets. In addition, he has helped other teams at international meets with tips on organization, ground practice, exits and other suggestions for improving the quality of RW competition.
Six outstanding and world-recognized freefall photographers:
Andy Keech, from Australia. His beautiful book "Skies Call" attests to his unique talent for capturing the unusual and the beautiful in relative work parachuting. Andy lives in Washington, D.C.
Ray Cottingham, from Long Beach, California. His breathtaking aerial photography of sequential relative work, as performed by jumpers in Seattle and Casa Grande, turned a lot of people on to a new way of looking at relative work. Ray has been shooting freefall film for a number of years.
Carl Boenish, from Los Angeles. He is perhaps the best-known of all freefall photographers - his beautiful shots are seen in all parachuting magazines, posters, postcards, etc. He shot the 26-man World Record Star in 1972. He produced the popular film, "Masters of the Sky." He has shot thousands of feet of film of relative work, and has also turned his camera on hang-gliding.
Jerry Irwin, from Delaware. He is not only a well-known RW photographer on the East Coast, but a very promotion-minded one as well. His shots have found their way into the general media (newspapers, magazines) where they help create a favorable impression for parachuting among the general public.
M. Anderson Jenkins, from Whittier, California. He shot the World's First 20-Man Night Star - a remarkable photograph. He has been shooting relative work for a number of years. His photographs have also found their way into the general media.
Peter Bottgenbach, from Germany. He is probably the most well-known European freefall photographer. He filmed the first World RW Cup at Fort Bragg; his photographs grace the pages of many European parachuting magazines.


1976
Al Krueger, "Captain Hook," who captained his 10-man team of Sky Pirates skillfully for more than three years, culminating in their winning the National Championships in 1975 and then, the First World Championships of Relative Work at Warendorf, Germany, in an unforgettably hard-fought victory. Al, a fair-minded and thorough individual, is a supporter of international competition and a spreader of good will. He has always been willing to contribute his knowledge to others.
B.J. Worth, captain of the U.S. Freefall Exhibition Team which turned-on the world's imagination with sequential relative work at Warendorf in 1975, has been a steady contributor of level-headed thinking to the growth of sequential relative work.
Matt Farmer, an avid progressive-thinking relative worker, is honored for his willingness to help others learn as much about progressive relative work as he knows. Matt, author of numerous "how-to" articles on sequential, ranging from 4-man to 20-man, can always be found wherever the good sequential RW is happening.
Hank Ascuitto, a creative rigger and enthusiastic supporter of competition relative work, was the first to turn out really lightweight gear that was reliable. He has contributed a lot of the innovative thinking that characterizes RW gear today. Others have made lightweight canopies and container systems, but Hank's Piglett II was the first to make lightweight gear popular and practical.
Sam Brown, captain of the "Rainbow Flyers" 4-man Team which has been the winner of two consecutive world 4-man events, is an enthusiastic competitor and promoter of the 4-man relative work event. The "Rainbow Flyers" began as a fun team and grew into a tough competitive team, proving that hard work and consistent effort pay off.
Bill Ottley, an avid supporter of sport parachuting in general, has devoted untiring effort to the improvement and growth of relative work on an international scale. Bill, former vice president of USPA and a member of the current Board of Directors, is a level-headed supporter of both competitive and fun-jumping relative work.
* * *
There are many who continue to support and contribute to the healthy growth of relative work. If Certificates of Merit were still being awarded, there would be several deserving recipients.
"Thank you" is a sweet sound to anyone. Recipients of these Certificates are special people ... people who have given of themselves so that all of us who participate in the sport may benefit. We are all served by their positive efforts on our behalf.
The RW Council
Pat works